Tripwire Security Analytics

Effective security strategies require visibility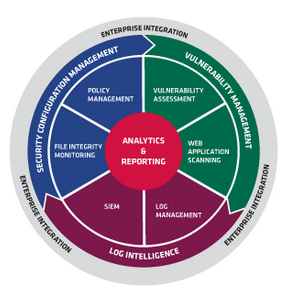 Data Mart provides a solution by extracting data from critical security controls, transforming it into information that's aligned with an organization's views of structure, risk, and priority, and then creating knowledge—information that's actionable.

Read More >>

Suite360 Intelligence Hub is the reporting and analytics platform for integrated auditing solutions. It provides audit-ready reporting by aggregates the detailed information provided by Tripwire IP360, Tripwire Configuration Compliance Manager and PCI scan results.

Read More >>

Benchmark consolidates analyzes and refines security data into metrics, then creates relevant and actionable performance indicators visualized into scorecards.

Read More >>
Overview:
Security Analytics, Visualization and Reporting
Effective security strategies require visibility—CISOs and security directors need the right information at the right time. They also need to convey security status, trends and risk to executives and boards without overwhelming them with security and compliance minutiae.
Security controls can generate petabytes of security data, and buried within that data is the valuable, actionable security business intelligence that can inform risk and security decisions. What's needed is a way to distill it down to the needed metrics, with business context—presented visually—to non-security professionals to effectively drive business decisions.
Tripwire's security intelligence, analytics, visualizations and reporting solutions include Tripwire® Data Mart, Tripwire Suite360 Intelligence Hub and Tripwire Benchmark.